Oberhausen – swimming and Mülheim shopping centre
Oberhausen – swimming and Mülheim shopping centre
On this cloudy day I was in Oberhausen (in order to swim) and then to Mülheim to a little shopping center.
In 12 minutes I went by bike to Essen-Altenessen station. I was very fast, faster than on other days. I wanted to take the S2 (local commuter train) to Oberhausen main station. The S2 stops in Essen-Bergeborbeck and Essen Dellwig, too.
From main station to the indoor pool it is a short distance to the indoor pool that opens on Thursday from 6.30 am to 10 pm. Away on leave I can do it in the lunch time.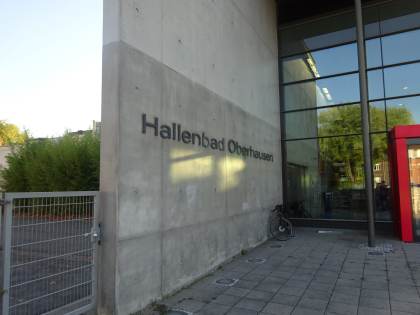 The entree costs 4  Euros for the whole day. You get at the machine a coin that you can lock your wardrobe. In Oberhausen there is no changing room for men and women, only the shower is separate. In the most Belgian indoor pools the shower is not separate.
I swam my lanes and it was good. The indoor pool in Oberhausen has big windows where every one on the street can watch what the swimmer can do. On a sunny day the sun glares when you swim but this is nicer than you have a big walls. This is why I love this indoor pool.
After swimming I went by bike to the city center and ate there something. After my holiday in Rostock this June I never ate in a cafe or restaurant outside the lunch time on work.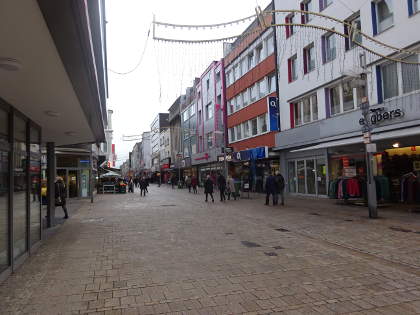 The weather was not very rainy but cloudy. I went to a little shopping center (in the Heifeskamp) in the north of Mülheim. I was there in the past with my old car but never with my bike.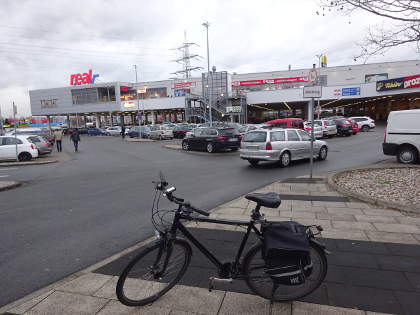 Here is a big choice of shops. But I am only interested in one shop: Intersport. Sometimes they have a good offers. In the past there were nothing for me but today there was a nice 3/4 sport tight with a blue area at the end. It was a special offer but in my size there was nothing.
Other clothes were also nice and cheap but nothing in my size. I need XXL or 56 and all clothes were in 54 (XL).
On the Mellinghofer Street where the tram line 102 goes from Mülheim Dümpten to Mülheim Uhlenhorst via main station I went the 4 km to the main station. There I took the train line S1 to Essen was thoroughly happy that the DB (German railway) has operated with a multiple-unit train control. Only in the rush hour they operate only with one rail car. The passenger should snuggle against other passengers.
After shopping in the supermarket REWE it had began to rain. But then it was not a problem. The rest distance is only 2 km and by bike in 10 minutes. Then is the wet clothes not a problem (for me).
For tomorrow I need a wet suit, because the meteorologist forecast 28 liter per square meter over Essen.