Air Seychelles flights will end in September 2017 to Dusseldorf / EDDL
Air Seychelles flights will end in September 2017 to Dusseldorf / EDDL
The national carrier of the Seychelles (capital is Mahé) will end his flights from the capital of Seychelles to Düsseldorf / Dusseldorf / EDDL in September 2017.
HM014 SEZ2155 – 0610+1DUS 332 4
HM014 SEZ2215 – 0630+1DUS 332 7
HM015 DUS1955 – 0800+1SEZ 332 5
HM015 DUS2015 – 0820+1SEZ 332 1
These are the Flight data (Source www.routes-online) of the airlines.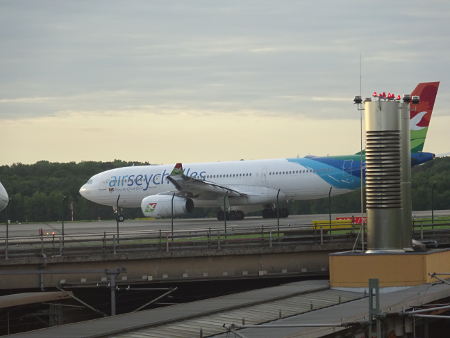 After my work yesterday I saw an Airbus A330 of Air Seychelles in the beginning of taxiway L1 (Lima 1). It waited behind a Swiss Bombardier C100/C300 in order to take off to the Seychelles. For this airlines I dropped my normal train to Dusseldorf.