First visit of the Bettenkamper Meer in 2018
First visit of the Bettenkamper Meer in 2018
Today I was in the Bettenkamper Meer in Moers.
It is a lake pool (swimming paths) of an old part of a river but the water quality is very good. It is better like the water in Rostock where I was in my holiday in the last week.
I know this kind of swimming place for a long time. A former colleague from my first job narrated me and I thought this could be a nice place for me, too.
I don't know why it is called "Meer" where it was a river or a lake because normally the German word "Meer" is the English translation "Sea".
The webpage of the swimming place informed the visitors that it would be open at 2 pm but at 1.30 pm I saw that it was already open. The life guard narrated me that the weather was so very good, so they have decided to open earlier. That was a good choice.
I took the trains from Essen to Moers and the rest with my bike to the Bettenkamper Meer.
The entry costs 2 euro for an adult. You have your changing cubicles for women and men, toilets and a little bar where you can eat something and you could have free WLAN but it did not work. The operating system had found two WLAN points but could not find a ordinary IP-Address. It was only a test – not important.
The swimming area is big and the natural water is cold – not very cold. On hot summer days there is a cooling. There is a big lawn where you have a beach volley field, too. It is a family place and it is not overcrowded.
I wore my swimming shirt and my jammer swimming trunks.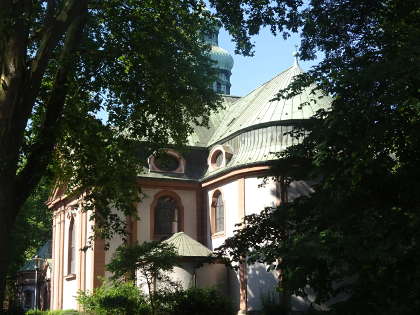 After swimming I went by bike to Duisburg-Rheinhausen – to the train station. I lost my way because there was a construction work on the main street in Rheinhausen and I could not turn right to the centre of the quarter that is near the station.
Fortunately I could reach my direct train to Essen (the train line is RE42) of the Deutsche Bahn AG and I had to wait only 15 minutes to the train that runs every 60 minutes.