The new section of the line 109
The new section of the line 109
Yesterday the inauguration took place of a new section of the line 109 (Essen, EVAG, Germany).
The tram line 109 connects the station Essen-Steele with the quarter Essen-Frohnhausen.
In the past, since 1898 there was a flow of the lines from the place Porsche via Rheinischer, Berliner and Limbecker to the Frohnhauser Street. From 1907 the ex green line had got the number "9". The end point was the station Hamburger Street in Frohnhausen but due to the new generation of trams in the 50th of the last century they had to build a turning point in Frohnhausen Breilsort.
Because of the bidirectional trams they don´t require nowadays a turning point.
After the inauguration of the underground section in 1991 between la place Porsche and Berliner, the tram couldn't operate the station place Limbecker and the a part of the Frohnhauser Street. The line went to the Helenen Street in Altendorf and turned left to the station Essen-West with the line 106. At the Alfred-Krupp School they went one´s separate way. The line 109 turned right to Frohnhausen and the line 106 went straight on to Rüttenscheid.
In the first years of the 21st century the areal of the old factory of Krupp should reanimate again. For this reason the town built the new street Berthold-Beitz-Boulevard (it connects the north to the south). On this connection the town wanted to build a new tram line section, in order to reactivate the old way of the line 109. However the minister Oliver Wittke (CDU) had prohibited the new connection. But now we have a new government in NRW and they have approved it.
From today the line 109 turns at the crossways Berthold-Beitz-Boulevard / Altendorfer Street to Frohnhausen.
With the inauguration there are new Bombardier trams that they already run in Adelaide, Dresden and other towns all over the world. The company has ordered 27 new trams.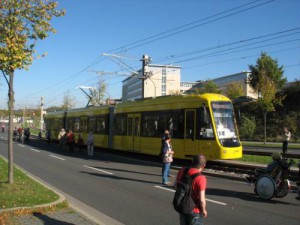 The new stations of the 109 are Frohnhauser Street and Schederhofstreet with a connection to the bus line 196 (by 15.06.2015).
At the crossways Helenenstreet and Altendorfer Street operate only 4 lines (101, 103, 105, 106) instead of 5 lines.