Fosdem 2018 (eng)
Fosdem 2018 (eng)
The Fosdem is a very large event in south of Brussels. The abbreviation of Fosdem means Free- and Open source software developer European meeting and it takes place in the university libre in the south of Brussels, in the town Ixelles.
Yesterday already was my arrive with the trains from Germany. For the first time I have transported my own bike to Belgium and then direct to the European capital. But in Belgium (in Eupen, Verviers, Liège, Visé, Huy, Namur, Mons, Antwerpen, Heist-op-den-Berg, Gent, Brügge, Ostende, Middelkerke, Poperinge, Kortrijk, Tournai and of course in Brussels) I was very often in the past but without a bike.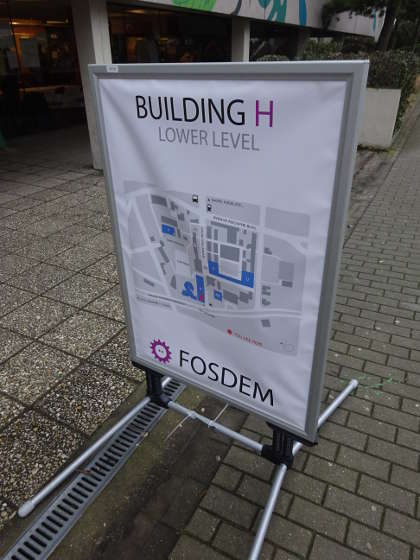 It was a cold morning when I have started to go by bike to Fosdem 2018 which is gratis and there is no registry necessary. I know from the German events you must something and register in advance.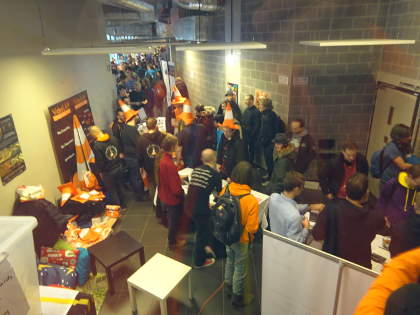 At first I have visited all buildings on the campus and of course the main building where all distributions have presented their activities. I could see Fedora, FreeBSD, LibreOffice, openSUSE, Python, VLC, Gentoo etc…. First I have collected the most important prospectus. Of course I know every name but I wanted to see how they present themselves.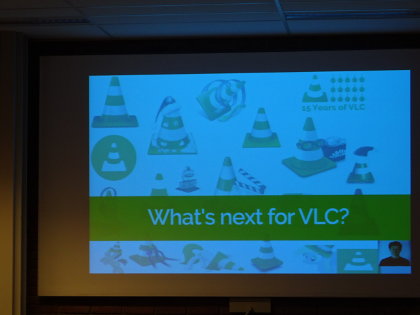 I start to watch the first presentations for example: Subtitles with IrmscJ and then an overview of the next version of VLC. Then I watched to things that I never have known before because this kind of event offers to do that. I never would go a special Python event if I don't program it.
A lot of women I have seen there. Open Source software is not only a men world. But I only see one or two women who did speeches. I know from other events that there are more women who had presented Linux applications.
I have left the campus at 2 pm because I wanted to see something from Brussels and the city centre.
Day 2
On the second day on the Fosdem 2018 I started after breakfast my journey to the south of the city. This morning I knew the streets better and could go faster than yesterday.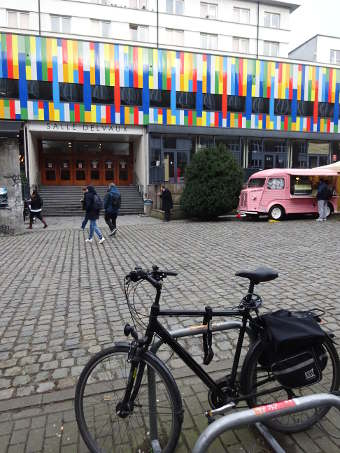 The event was about the telephone program Asterisk. There is a new version and the presenter has said that there is possible in future that you can use it with video. It could be a new concurrence to Ekiga or perhaps Skype – this is my opinion.
After this I heard some news about Jitsi. In one of my old companies it was operated for the calls from the customers. For this case I know this program. This little company with 10 employees had used Ubuntu 16.04.
At the moment I don't have someone who is interested in telephoning with me via Skype or other programs. I think the most persons only know Skype. Other programs are known by specialists.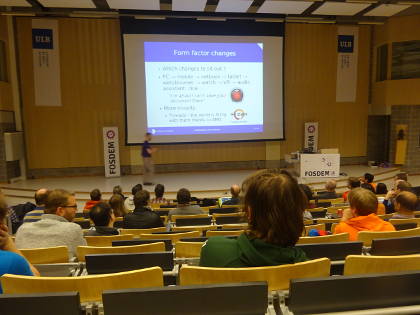 I changed the building and went to the big conference room "La Fontaine" where there was a presentation about LibreOffice and how they reduce the old program code because it is 30 years old. No, LibreOffice is not 30 years old but when you see that it had begun with Star Office from StarDivision then you can count 30 years.
Then I have watched a presentation about Flatpak in a little and very overcrowded room. Flatpak is the currently application for installing software. I had to sit on a table in the last row, in a very warm room without oxygen. I wished they would open a window but then they would have a problem with the video record for the internet.
After Flatpak I was in the presentation in the same room about a warehouse who operates with funny combination of Windows, Unix and Gentoo. I did not really understand what the presenter wanted to explain us, because he compared it with Windows and Unix operating systems and he showed us in a short video how to convert perhaps .dll files to a Linux file format.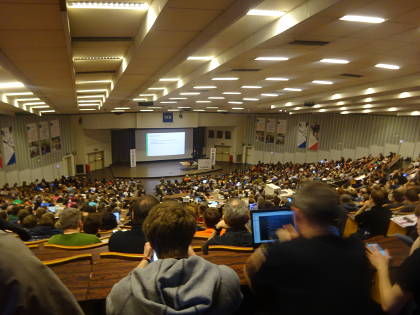 I terminated the event Fosdem after this and I could imagine that will return to here in a few of years. It is not possible that I will return to here every year because in Germany there are my favourite events close-by Essen where I live: Froscon in Sankt Augustin near Bonn and Cologne and OpenRheinRuhr in Oberhausen.