My tent is at home
My tent is at home
On Thursday I picked up my first tent at McTrek in Essen. It is lighter than I thought and could transport it in my rucksack. In light of the bad weather I could not deploy it for a little test in the Hallo park here in Stoppenberg. This I would do before I want to test it for a tour for a weekend. But we have still March and the weather here in Germany could relapse into a hard winter week.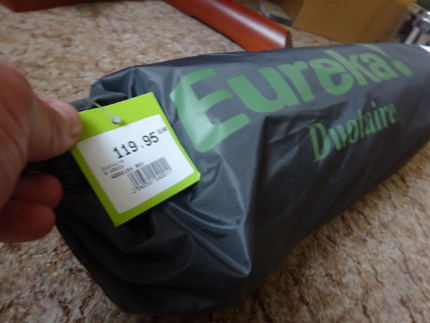 Now it is little warm because I have worn my 3/4 sporttights outside of the apartment. Yesterday it was already warm dry and sunny. On my bike to the indoor swimming pool in Rüttenscheid where I swam my lanes for 20 minutes, it was very nice. The general public was the meaning that we have strong winter because they wore still winter clothes. The people from nowadays are very doubtful.
The pool attendant of the outdoor pool in Bochum-Höntrop said to me in the last year that nowadays the weather forecast says that there could be some rain in the afternoon, the most people has not the heart to swim because rain and outdoor pool that is not the correct relation. The people dare when the sun shines for 3 or 4 days then they come.
I go for one day to the outdoor pool when the sun shines and it is little warm around 17 degrees.
I already dry my clothes on the laundry rack on my balcony.
It is very strange that a lot of people are waiting for a perfect weather. They curtail a strict temperature limit and weather conditions for their activities. Are they not disappointed if the nature does not do what they image? We do not have the long dry hot summer weeks in June, July or August.
I need still a sleeping bag and some pots, pan and a drinking cup in order to survive the camping days.