One leave day
One leave day
Today I have for a long time a leave day, again. It is my last leave day in this company. But I have not to fret because my work goes onward. On 1st of October I will begin my new work, but the workplace is the same, with same work as yesterday.
It is a little bit funny. I have never been have before and it is the first seamless transition for me. In the past I was at least one month without work. Hence it is good that I have a leave day.
In a few minutes I will my job agency in order to say goodbye. It is a good feeling. I like this calls to the job agency. The other calls that I would be unemployed I don't like it.
At the moment I have started with Whatsapp. For the ordinary population it is daily routine but for me who had not a long time a mobile device a new experience. I was bridling at using this app a long time. I only thought that I should use Telegram but there is no one. But not every one will be in my circle in Whatsapp, only the people where I have a good contact. I don't make a pig's ear out of my free time.
Yesterday I could wear my 3/4 sporttights outside. It was still a warm day. The days before they were not. Currently you can do it, again. Long clothes you must wear too long the whole year round. The most important thing that your torso is warm but the legs can be colder.
You are unusual when you wear a short clothes in autumn. I also like the fresh air on my skin.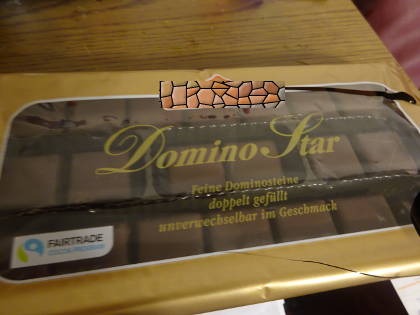 Yesterday evening I ate my first Dominosteine. I like it and I'm sad that the time after Christmas is over. My contact from the USA (Louisiana) already has asked me what this is. I have posted it in Google+.
I had sent to one of my former contact to Peru this kind of Dominosteine. They are melted in the heat of Peru but my email friend was very happy about it. I had asked (before I had sent the package) Peruvian customs about the conditions in order to sent German sweets to their country. They had written me that they had assented.
Dominosteine are only sold before Christmas and the sale begins mostly in the End of August. For the most Germans it is anathema to buy such sweets a long time before Christmas. But when Christmas is just around the corner then you the production is over and the first sweets from Easter will sell in the supermarkets.