Swimming in Düsseldorf-Unterrath
Swimming in Düsseldorf-Unterrath
After a hard (very busy) working day I went with my bike to the indoor swimming pool in Düsseldorf-Unterrath that is situated in the Mettlacher Street near quarter library.
It is a good choice to calm down after a nerve-racking day. At the moment there are a lot of calls and tickets.
My decision for Unterrath was the proximity to my work. In the last year I was once with my former car there, now with my bike. Because of the workplace of the railway line S6 in Essen-Hügel (until April 2018) the decision was against the indoor pool in Ratingen Angerbad. For this case I had to go back to the airport railway station, a long way about 10 km. If the German railway company "Deutsche Bahn AG" will reopen the S6 to Essen main station, then I can go to the "Angerbad" that has also a outdoor area. Perhaps it is then open, too.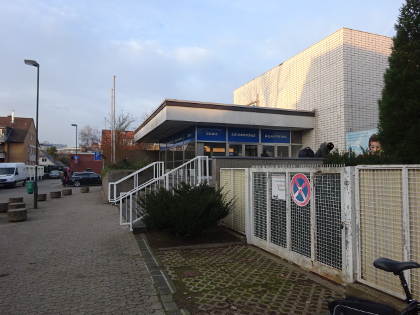 The indoor pool has one 25 meter basin and several little basin which one is connected directly with the outdoor area. That means, that you can swim from inside to outside with a change of the basin. In most cases there is a separate basin. That is very cumbersome.
The 25 meter basin was divided in three areas, today because swim teachers had taught young children in water. For swimmers there was one area. Unfortunately there are a lot of men who think that they are "Michael Phelps" and swim very fast. For these persons I'm annoying because I don't swim so very fast.
I was in the outdoor area, too. In winter it is fantastic because you swim from the warm hall to the cold and you have cold hairs but your body is in warm water.
Nearly one hour I was in the indoor swimming pool. I went back to the airport railway station where I every day terminate and begin my trip from/to home.
In the evening I have set up the sound into my Arch Linux. First I have wondered that the VLC player was playing the video but no sound. One setting the pavucontrol (that is integrated in the Xfce 4 desktop) was enough that the sound works but in order to find this setting took 20 minutes. First I was on the Alsamixer tool in the command line and then in the pavucontrol in the wrong tab. I know the setting here from Fedora or Ubuntu, Mageia etc…
Mostly are they all the same settings and programs.
But now I can listen to music in mp3 (the lame program was installed by me – the first thing what I did after the installation process), to the mp4 video etc… I listened to a podcast of "Bayern 2" (the Bavarian public radio station).
Dead slow I'm getting tired. Tomorrow a lot of new tickets and call will expect me.