Big changes: no RSS support in Firefox 64 and no Google+ and SWT
Big changes: no RSS support in Firefox 64 and no Google+ and SWT
In the last time I must undergo a change, that was not happened in the time before. I'm open-minded to new things but in the last time it happened like a blow with a club.
Firefox 64 does not support the xml files on the websites. I use the xml in order to download my podcast from the radio stations in Germany. Now you only see a naked xml file. Of course it is very interesting (when you create such a site, but not when you only want to download something).
I read the news that Firefox will does not support the RSS Feeds but I thought it would be an unknown plugin in the browser and not the view of a xml file.
On my pc with Debian 9 runs Firefox 60ESR and here I can still use the xml files. You see here how this kind of version works. This means that in the new version of the ESR (short for "Extended Support release").
But for a few months I use an outmoded (not the software is old, only the method is old – for me not but for a lot of people) rss akregator that is called QuiteRSS. It is available for Debian and Fedora. I'm very satisfied. The software is very light but not such a big program like "Akregator"
Of course I follow a lot of feeds from about Linux and PC in general.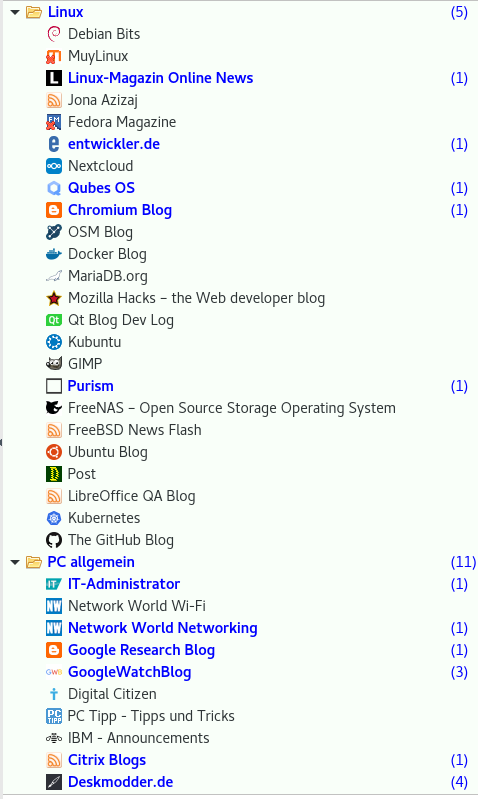 The advantage of the RSS Feed is via a program that you don't miss a new message. I have set up a rss here in my blog where you will not miss a post from me. I'm a stalwart writer here. So you don't must wait a long time. Yes there are a period of time where I do not write something because I don't want to complain about the German Railway and its delay.
The switching off of Google+ is already known. I was 7 years here online but in April 2019 Google will deactivate it. Perhaps my new home will be Diaspora or I live without a social network. I don't know.
The stopping of the "Schöne-Wochenende-Ticket" of the DB (German Railway) in the next year was a little shock. The Schöne-Wochenende Ticket short SWT you can use every train for the regional traffic, IRE, RE, RB, S-Bahn.
The SWT is NOT valid in ICE, IC, EC.
You buy this ticket and take the regional distance trains and then the local traffic like underground, trams, buses or suspended railway like the Wuppertaler Schwebebahn in Wuppertal, West-Germany (but in the moment not due to an accident).
This will end on 06/08/2019. The successor "Quer-durchs-Land Ticket" have similar conditions but it is not valid in ICE, IC and EC, too. The only important change is that at the destination you must buy a new ticket for the local traffic (underground, trams, buses, Wuppertaler Schwebebahn).
A former good friend had traveled from Kiel (in Schleswig-Holstein) with her boyfriend to Bergisch-Gladbach, near Cologne (in North Rhine-Westphalia) about more than 7 hours. With the long-distance fast train you take this journey about 3 or 4 hours and must change only two times. The regional trains you must change 6 or 7 times.
For me as cyclist is the new condition of the Quer-durchs-Land Ticket not so important because at the destination I use my bike.
I would in general the Dutch system of ticket system. The Dutch use one ticket for the whole The Netherlands. It is called "OV-chipkaard". You have one card, you must hold the ticket in front of a checking device when you begin your journey and when you end your journey you hold the ticket before the checking device and the whole distance will transfer to an account and it calculate your costs and debit an account. The bank account is connected to this account of your ticket. The OV-chipkaard you can use in every train like IC, Stoptrein, Sprinter or bus, tram or underground.
But the Dutch system has a big advantage. It does not know a difference between IC and Stoptrein (it is a local train like RB in Germany or L'Ominibus in Belgium). In the Netherlands you can use the same ticket in IC as in Stoptreins or Sprinter, too. In Germany you must pay something more for a use in the IC and more in the ICE.