Greven and Münster/Westfalen
Greven and Münster/Westfalen
On this very warm April day I was in Greven and later in Münster/Westfalen.
For this intent I had to buy me a ticket for a day for my federal state. For the German Railway there are specific ticket where you can go by train (regional trains, RE, RB and S-Bahn, not ICE and IC) for a day through your federal state. For one person you must pay at the moment 31 euros. For bike you must pay extra 5 euros. It is much cheaper as a single ticket. For example for a journey from Essen to Greven with my Bahncard (a discount card) you must pay 26 euros (for one trip) without your bike. For this reason 31 euros are cheap.
I took the train line RE42 from Essen main station to Münster/Westfalen main station that took one hour and 10 minutes. Then I had to change the track in order to go to Greven.
The private company Eurobahn operates with the colours of the "Westfalenbahn" the train line RB65 between Rheine and Münster/Westfalen. They use the modern railcars of Stadler Flirt.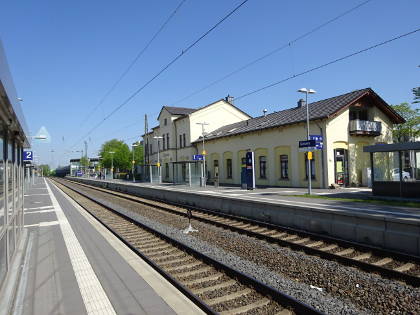 In Greven way my destination the airport Münster/Osnabrück (Osnabrück is a town in the federal state Lower Saxony), EDDG is the ICAO-Code and FMO is the IATA-Code.
I was once at the airport but it was a long time ago.
It was quiet in the departure hall and I decided to go the visitor desk in order to watch the planes. Only one plane I saw. It was a grounded Airbus A321 from the German airlines Germania. I waited 30 minutes but nothing happens. The delayed flight to Antalya landed not and I went back to Greven.
Greven is a little town with 37.000 inhabitants. The woman handball team SC Greven 09 is known but in former times they played in the second division but now in the Landesliga.
In Greven I got knew my first girlfriend (in 1999, I was 20 years old). The first date ever with her was in the indoor swimming pool with her good friend. It is amazing that it happened. I didn't think anything of it because we loved swimming and the suggestion came from her, not from me. I was (and I'm still open-minded) for this but nowadays and I had good luck). The "relationship" with her took 5 months (my longest relationship ever in my whole life up to now). The second relationship took 3 months and for 17 years I'm now without a girlfriend.
I took the next train, the RE15 from Emden (Lower Saxony) to Münster/Westfalen. The RE15 is now operating of the Westfalenbahn with new railcars. I still know the time of the old waggon (Silberlinge) with an engine BR111 or something else that I took in order to get to the North Sea (for one day). In 4 hours and 30 minutes you can go with regional trains from Essen to Norddeich (a quarter of the town Norden) that is located directly at the North Sea.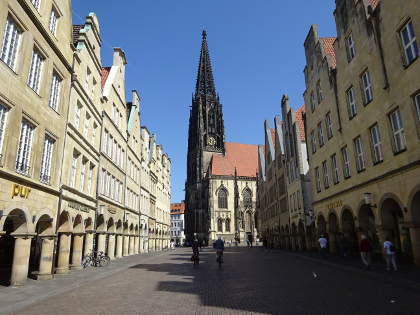 In Münster/Westfalen I decided to go around the historic city centre in order find a good restaurant. I found something and ate my meal.
I know the city centre of Münster but I was a long time ago in this town. Münster is famous for the good cycle path (I think that in the city centre not so good), for soccer (SC Preußen Münster) and it is an university town.
Because we had Sunday and the sun was shining I decided to go by bike to Albachten. It is a little rural quarter outside of the city centre. The distance was 8 km, not so far way.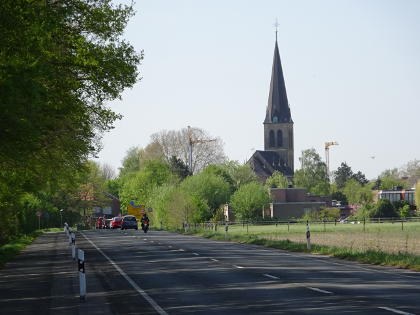 Albachten has 6350 inhabitants and a good infrastructure (for supermarkets and little shops and railway station). The bus line 15 from public service Münster operates here (every 30 minutes even on Sunday) and two regional bus lines. I found an ice cream parlour because I wanted to eat ice cream.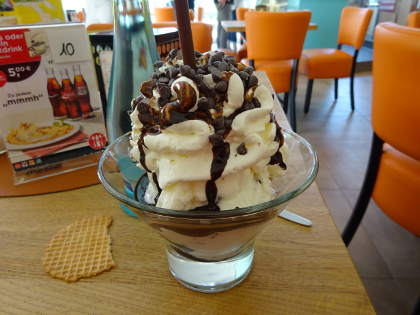 I took the next train (RE2 Düsseldorf to Münster) from Münster-Albachten to Wanne-Eickel main station. The RE42 (Münster to Mönchengladbach) also stops here.
It was a nice day and a nice long weekend that will end and tomorrow begins the "Seriousness of life"; in German you would say: "Ernst des Lebens".