Swimming in Mülheim / Friedrich-Wennmann Bad
Swimming in Mülheim / Friedrich-Wennmann Bad
Once a week I go regularly swimming in the indoor pools around Essen. Strangely enough since the administration of Essen had increased the prices for their indoor pools I go to neighbourhood although they have the entry prices as Essen. Perhaps there is no incentive for me to go to Essen.
This time I was in the Friedrich-Wennmann Bad (Bad = indoor pool) in Mülheim-Heißen.
First I bought me new clothes at Peek&Cloppenburg (an elevated fashion store) where I have a loyalty card. A new shirt and a new T-Shirt is now in my property. After that I took the motorway A40 that crosses the city centre to the intersection exit Mülheim-Heißen. The indoor pool is near the motorway and the metro U18 (Essen Berliner Platz to Mülheim main station).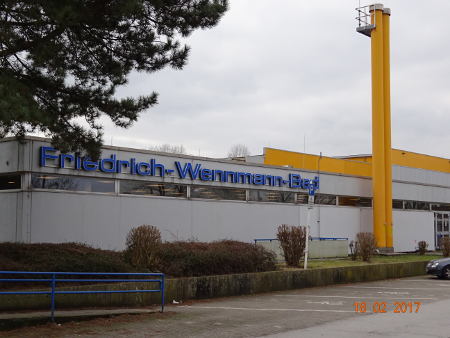 The indoor pool is opened from 7 am to 8 pm on Saturday. For a normal indoor pool is this an exception because the most open only to 1 pm or 3.30 pm.
The indoor pool has a 25 metre basin and the little one for the young children. In the big basin the was was heated to 30°C (86°F). In Germany this is called "Warmwassertag". For lane swimming is that no so good.
Nevertheless I swam 20 minutes in water after that I relaxed something. Here are a lot of young women frequent the pool. In other indoor pool I only see old women or men or very young. What is the special incentive of this pool, I don't know.
I don't know when I will return to this indoor pools. The last one I was in the last year or the year before.