Müngstener Bridge in Solingen (West-Germany)
Müngstener Bridge in Solingen (West-Germany)
Yesterday (Sunday, 3/12/2017) I was at the Müngstener Bridge in Solingen. It's the highest railway bridge in Germany, with a height about 107 meters. It was open in 1897. Today it's a regular train line runs over the bridge, the S7 from Wuppertal main station to Solingen main station. The S7 is now operated by Abellio GmbH, that the Nederlands Spoorwegen (the Dutch railway company) has an interest, too but in former times by the Deutsche Bahn AG with the line RB 47.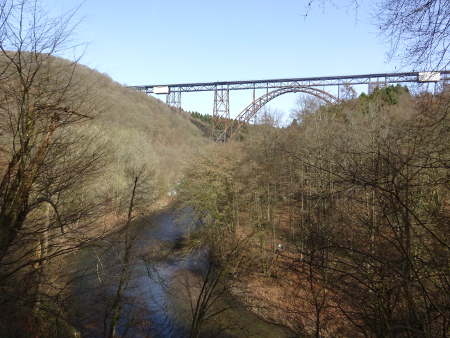 On the way there I passed the bridge from Wuppertal main station and went out in the next station Solingen Schaberg. From there I went a path to the valley in order to watch the bridge upwards. The valley is formed by the river Wupper that flows to the Rhine.
It was a sunny day, so that I decided to go to Solingen Burg, that is called here "Burg an der Wupper". On the path to "Burg" there were some muddy places that you had to pass.
After 4,4 km I reached Burg, a little quarter in the south of Solingen that is very popular in summer months. The houses in this area are covered with slate. It's typical for this area. In Burg there is a really a little castle on top of a mountain that you can reach with a chairlift that crosses the river Wupper, too. Because I have a problem with the height, I don't take this kind transportation.
Solingen is not only famous through its production of blades but with its trolleybuses, too. In Burg there is a revolving disc for this trolleybuses but yesterday the transportation company with long buses that are too long for the revolving disc.
I took the bus line 683 to Solingen centre because I wanted to eat something. The only restaurant was overcrowd. The station for visiting the centre is called "Graf-Wilhelm-Platz" where you can go directly to the pedestrian area.
After lunch I went by foot to the tram museum in Wuppertal "Kohlfurther Brücke", nearly 4 km. There is a little tram museum where you go by tram through a wood. But yesterday the museum was closed. I took the next bus (the line CE64) to Wuppertal main station.
Wuppertal is famous through his famous transport vehicle "Wuppertaler Schwebebahn". A train that has his roadway above the vehicle. Here I could see the old vehicles and the new one, that was bought in 2016. A Spanish company from Valencia built this kind of special vehicle for Wuppertal.
But with the normal local train on rails I went back to Essen.